Warrants Link Mother To Possible Murder Of Missing Durham Boy
Recent court documents show that police found blood and a fired bullet in a Durham house that could connect a mother to the deaths of her missing 5-year-old son and another woman, neither of whom has been seen since late last year.
In a search warrant filed last week, a member of the Durham Police Department homicide unit wrote that witnesses, police reports, child services records and other documents identify Vania Sisk and Peter Moses as being "directly involved" in the murders of Sisk's son Jadon Higganbothan and 28-year-old Antoinetta McKoy.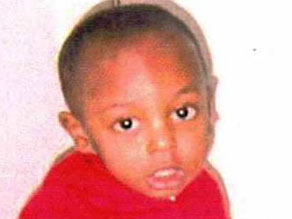 Jadon Higganbothan
The case has been under investigation since Sisk and Higganbothan were reported missing in the Colorado Springs area in February. Sisk was soon located at a nearby Wal-Mart but did not reveal where Jadon was, claiming she had left him with an acquaintance.
According to search warrant affidavits filed in Colorado, Sisk and Moses were living there with several other adults identified by police as a group of Black Hebrew followers—African-Americans who believe themselves to be the true descendants of ancient Israelites—along with ten children. When investigators told the residents that North Carolina social services had ordered them to take custody of all of the children in the house, one woman said to Sisk, "We are losing all of our kids cause you don't know where one of yours is."
A former member of Moses' Black Hebrew group who "escaped" told Durham police that they were present when Moses killed Higganbothan in a house on Pear Tree Lane in Durham in October 2010. According to the affidavit, the informant said that Moses became angry at Jadon and called him down to the basement. The informant claimed they then heard loud music and a gunshot and later saw Moses place the boy's body in a suitcase and hide it in the attic.
The informant also claimed that McKoy, another member of the Black Hebrew group, was shot and killed by Sisk in early February after an argument with Moses over lost car keys. According to the informant, Moses then helped Sisk remove the body from the house and bury it.
Neither body has been found, but according to the affidavit filed by Durham police last week, investigators found a fired bullet, shell casing, possible human blood and signs of "overt cleaning" in the areas of the Pear Tree Lane house where the informant claimed the murders occurred. That evidence and biological samples from family members of Higganbothan and McKoy have been submitted to the FBI for analysis.
The inventory of the search of the house conducted last week showed that investigators took swabs of a dark red substance and found a bleach container.
Authorities issued a warrant for Sisk's arrest last month after she missed a court appearance on charges unrelated to these disappearances. Relatives of Moses have denied that he is part of the Black Hebrew movement.
http://nancygrace.blogs.cnn.com/2011/04/06/warrants-link-mother-to-possible-murder-of-missing-durham-boy/?iref=obinsite